Invested 1.5 billion yuan and signed contracts for high-quality stainless steel industrial welded pipes and other projects
On November 11, the Taizhou (Shanghai) City and Industry Investment Environment Promotion Conference was held to comprehensively strengthen the cooperation between Taizhou and Shanghai in the fields of advanced manufacturing, modern service industry, and technological innovation talents.
Among them, Jingjiang City has participated in the signing of 6 projects, including the COFCO Grain and Wheat Finishing Project with an investment of 150 million US dollars, the construction project of the Danshensu sodium injection production base with an investment of 1.51 billion yuan, and the investment of 1.5 billion yuan.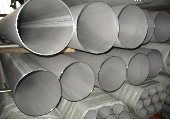 High-quality stainless steel industrial welded pipes Four manufacturing projects including production and construction projects, an annual output of 180,000 tons of lightweight aluminum alloy castings with an investment of 3 billion yuan, a future city commercial complex service industry project with an investment of 380 million yuan, and an IMO ocean-going ship LNG energy storage system R&D and industrialization talent projects.