Special Steel
Bar/Wire Rod
Huaxiao offers different sizes and grades of bar and wire rods.
Special steel is made by adding various elements to iron.
We make it have various characteristics such as heat resistance, hardness, and corrosion resistance.
Special steel is used for parts or manufacturing and maintenance parts for a variety of applications, from automobiles and other transportation equipment essential to modern society to everyday household appliances and smartphones and other precision equipment.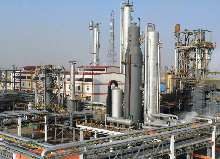 Special Steel Bar Available Specification:
Specification
SAE / AISI / ASTM A2 / D2 / D3 / H21 / H13 / H10 / T1 / M2 / M35, etc.
Standard Size
Round Bar : OD : 3 ~ 600 mm, cold-drawing, hot-rolled, hot-forged
Flat Bar : TH 10 ~ 90 mm * Width 60 ~ 550 mm * Length 2,500 ~ 5,800 mm
Black : TH 100 ~ 700 mm * Width 100 ~ 1,300 mm * Length 500 ~ 5,800 mm
Commercial Forged Steel: OD : 70 ~ 200 mm, Length : 3 ~ 12 M
Condition: Annealing, Normalized, Quench + Temper
Surface : Black Finish, Peeled, Rough Turned
Special Steel Wire Available Specification:
Typical steel grades/Standards/Size range
Product Types

Standards

Typical Steel Grades

 

Size Range

Tire Cord Steel

Mutual Agreement

FM00011、FM00001、FM00005、FM30012、SC62AM、SC72AM、SC82AM、SC92AM、SC92JX

Φ5.5~7.0

Bearing Steel

JIS, SAE,

Mutual Agreement, Enterprise Specification

SUJ2、SAE52100、GCr15、C&U、100Cr6

Φ5.5~25

Spring Steel

GB, JIS, SAE, DIN, Mutual Agreement

54SiCr6、54SiCrV6、55SiCr、XC55SiCrV、XC55SiCr SAE9254、SAE9254V、51CrV4、50CrVA、55Cr3、60Si2CrA、60Si2CrVA、60Si2MnA、38Si7、SUP9、SUP12V、SUP12、60SiCrV7、70KD、75KDH、65SiCrV6、65Si2CrV

Φ5.5~25

Special High-carbon Wire Steel

JIS, Mutual Agreement

GRST55、GRST72、GRST82、GRST92、GRST100、GRST80WV、SWRS82BBK、SWRS92A

Φ5.5~16

Alloy Structural Steel

SAE, ASTM, JIS, NF, GB/T3077-1999 Mutual Agreement

SAE1513-1548、4118-4161、5115-5145、8620-8645、A274、SNC236、SNCM220、SCr415-SCr445、SCM415-SCM822、SMn420-SMn443

Φ5.5~40

Steel for Fasteners

JIS, SAE, DIN, GB, Mutual Agreement

ML20Cr-40Cr、SCR420H、SCR440H 、ML20CrMo-42CrMo、SCM435、SCM440、B7、B16、SCM415、40CrMoV4-7、10B21-10B38、SWRCH6A-22A、SWRCH10K-45K

Φ5.5~40

Tool Steel

Mutual Agreement

S2、50BV30、SAE6150M、65SiCrMoV、SVCM+

Φ5.5~25

Carbon Steel for Mechanical Structure

JIS, Mutual Agreement

S10C-S55C、C15、C25、C35、C45、S45SC

Φ5.5~40

Free-cutting Steel

JIS, SAE, Mutual Agreement

SAE1117-1151、SUM23、1215M、SAE1144

Φ5.5~40

Welding Steel

JIS, SAE, Mutual Agreement

H08MnMoTiB、E07LP、H08CrMoR、H09Mn2H、DS-01、DS-03、H10SiCr2Mo、H05Mn2NiMo、H08Mn2Mo

Φ5.5

Φ6.5

Φ8.0
Special Steel Manufacturing Process: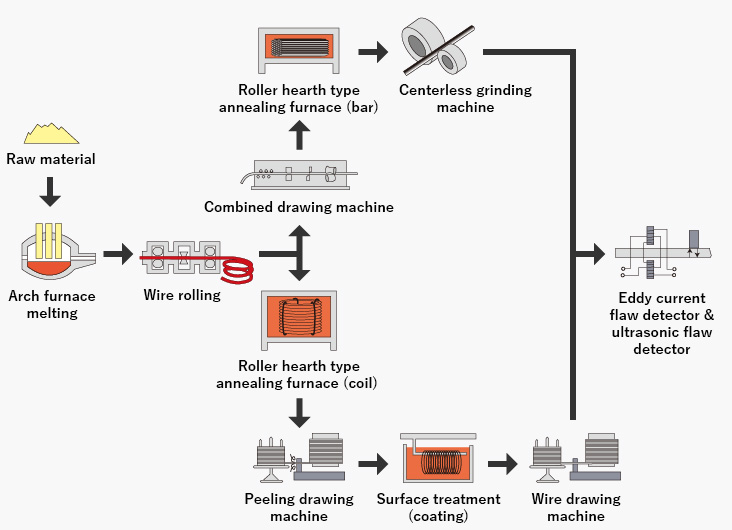 Huaxiao Metal Steel commercializes wires and bars mainly through processing (such as drawing, cutting, and heat treatment). To ensure high quality, we use ultrasonic and eddy current testers to detect internal and surface defects of each product.
Contact Us For China Special Steel Prices