Huaxiao is a large-scale iron and steel enterprise mainly producing hot-rolled, cold-rolled coils, and coated products, supplemented by bars. With an annual production capacity of 10 million tons of steel, it is my country's important steel production base in the central and southern regions. It has a complete set of process equipment from coking, sintering, iron making, and steel making to steel rolling. Including one 210-2250mm conventional hot rolling production line and one CSP short-flow hot rolling production line, 1720mm cold rolling production line, two bar production lines, and world-class heat treatment Production Line A joint venture with ArcelorMittal for the VAMA automotive sheet production base land.
Huaxiao metal's main products are automotive steel, construction machinery steel, wear-resistant steel, medium, and high carbon steel, corrosion-resistant weathering steel, pipeline steel, home appliances Plates, semi-technical electrical steel, plated products, etc. Product users are located in most provinces, municipalities, autonomous regions, Southeast Asia, Europe, the United States, and other places in the country.
The CSP line of LY Steel is well equipped with an advanced processes, which is one of the most advanced thin slab continuous casting and continuous rolling lines.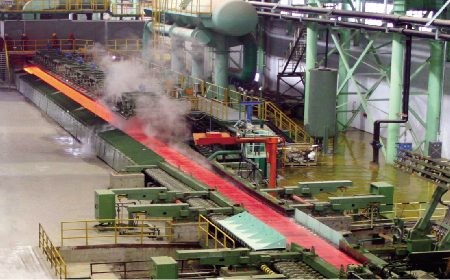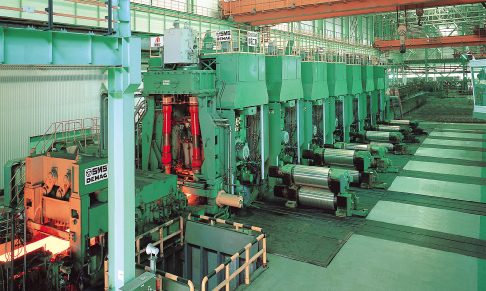 Product Specification:
thickness: 0.8 ~ 12.7mm,
width: 900 ~1600mm,
inner diameter: 762mm,
coil weight ≤29.6t.
According to the customer requirement, the product can be delivered not only as per national standards, industrial standards, or technical agreements, but also the Japanese, American, and European norms.
Huaxiao Metal's new smelting and rolling system integrates contemporary leading technology, adopts continuous casting billet hot charging and hot delivery, and advanced energy-saving regenerative heating furnace. The maximum hot charging temperature exceeds 900 degrees Celsius. In improving product performance and quality, it adopts The controlled rolling and controlled cooling technology, high-precision rolling technology, and ultra-fast cooling technology after rolling are the first in China, and the equipment and control level of the production line have reached the international advanced level.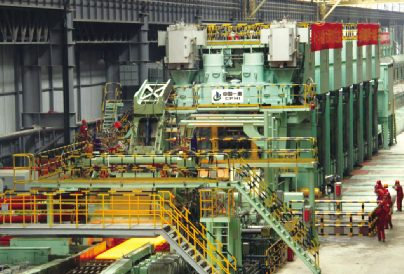 Product Specification:
thickness: 1.2 ~25.4mm,
width: 900~2130mm,
coil inner diameter: 762mm,
coil outer diameter: 1200~2100mm,
coil weight ≤38t.
According to the customer requirement, the products above can be delivered not only as per national standard, industrial standard, or technical agreement, but also Japanese, American, and European norms
High Strength Temper Mill
The annual capacity of high strength temper mill is 800 thousand tons.
The product covers 1.2~12.7mm in thickness, and 900~2130mm in width. Tempering capacity can reach 1000Mpa and recoiling capacity reaches to 1500MPa.
With an annual capacity of 500 thousand tons, the cut-to-length line mainly produces high-strength structural steel, mechanical engineering steel, wear-resistant steel, saw steel, automotive beam, and structural steel, acid and corrosion-resistant steel, shipbuilding steel, etc.
| Sheet Thickness | Sheet Width | Edge Cut Width |
| --- | --- | --- |
| | | Max: 50 mm/each edge Min:sheet thickness+10 mm/each edge |
Cut to Length Line for Thin Gauge High Strength Steel
The annual capacity of the thin-gauge high-strength cut-to-length line is 700,000 tons.
Product Specification:
thickness: 1.2-16.0 mm,
width: 900-2100 mm,
max yield strength: 1200MPa.
Huaxiao Metal is the first manufacturer which can process hot-rolled sheet/coil both through a cross-cut-shearing line and heat treatment line. The current production capability is 500,000 tons, equipped with 10 heat treatment furnaces, 4 quenching machines, 5 levelers, 1 SED line, and 1 packaging line. Huaxiao Metal is now preparing to start phase III, adding 5 heat treatment furnaces, 2 quenching machines, and 2 imported levelers, and the production capacity will be 760,000 tons. Product thickness ranges from 2.0mm to 25.4mm which is the thinnest high-strength heat-treated product in China.
| Sheet Thickness | Sheet Width | Sheet Length | Sheet Unflatness |
| --- | --- | --- | --- |
| | | | |
Cold Rolling Production Line
Huaxiao Metal cold rolling production line introduces advanced technology and equipment aboard, with a total capacity of 1.80 million tons, of which 800 thousand tons of annealed & skin pass sheets and 400 thousand tons of galvanized sheets, the rest are cold hard products. This line is composed of PL-TCM, full hydrogen bell type annealing furnace, skill pass mill, recoiling line, hot-dip galvanizing line, and other ancillary facilities.
Specification: 0.25~2.5×850~1585mm, coil inner diameter 508/610mm.
The product is widely used in construction, household electric appliances, hardware, automobile, and light industries. The products mentioned above can be supplied not only according to the national standard, industry standards, and technical agreements but also JIS, ANSI, or EN, depending on customers' requirements. Tempered and cut-to-length plates can be provided.