Non ferrous metal early bus on February 10
According to customs data, China's aluminum foil exports from January to December 2021 were 1.335 million tons, a year-on-year increase of 7.73%. The export volume exceeded the previous high of 1.295 million tons in 2019, a record high. The annual export value of aluminum foil was 5.142 billion US dollars, an increase of 34.2% year-on-year, and a record high. The previous high level was 4.304 billion US dollars in 2018. In 2021, the export value of aluminum foil will account for 14.8% of the export value of China's aluminum products.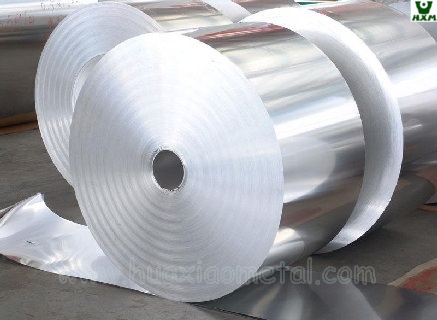 In January 2022, the national aluminum rod output was 235,100 tons, down 6.82% month-on-month and up 3.57% year-on-year; in January 2022, the completed production capacity was 6.69 million tons, the operating capacity was 2.82 million tons, and the capacity utilization rate was 42.2%, up 0.3 percentage points year-on-year. The chain fell by 3 percentage points.
On January 28, 2022, the Brazilian Foreign Trade Secretariat issued Announcement No. 2 of 2022 in the Federal Official Gazette, making a final anti-dumping ruling on aluminum sheet products originating in China, ruling that there was dumping in the import of the products involved, and the domestic industry was affected.
However, there is insufficient evidence to show that there is a causal relationship between the dumping of the products involved and the damage to the domestic industry. Therefore, it is decided to terminate the investigation on Chinese aluminum sheet products without implementing anti-dumping measures.
At present, 22 aluminum industry-listed companies have disclosed their 2021 performance forecasts. The results show that 19 companies have pre-increased net profits, accounting for about 86%. Among them, the net profit of Dingsheng New Materials has the largest change. During the reporting period, the net profit attributable to the parent was about 410 million yuan to 450 million yuan, an increase of 2834.3724% to 3101.1404%. The net profit of China Aluminum was the largest. ~ 5.3 trillion yuan, a year-on-year increase of 561% ~ 615%.
Aluminium prices hit their highest level since 2008 on Tuesday, boosted by investor concerns about tight supplies and falling inventories. Benchmark aluminum on the London Metal Exchange rose as much as 3.3% to hit $3,236 a tonne. Goldman Sachs has raised its 12-month aluminum price forecast to a record $4,000 a tonne, citing supply disruptions caused by power outages in China and Europe at a time when demand in developed markets is "unusual."
According to the compilation of the World Aluminum Network, UAE Global Aluminum announced that it will build its first aluminum recycling plant. The new plant can process 150,000 tons of scrap aluminum every year. It is reported that the raw materials of the recycling plant are scrap aluminum in used window frames and unconsumed scraps from the extrusion production line, etc., relying on the supply of the United Arab Emirates and surrounding areas.
It is expected that the plant will be put into operation in 2024. EGA's production capacity has increased from about 1.15 million tons to about 1.3 million tons per year.
According to a report released by Rusal, the company's aluminum output in the fourth quarter of 2021 was 953,000 tons, an increase of 1.0% from the previous month, of which the output of the Siberian smelter accounted for 93% of the total aluminum output. The annual aluminum production in 2021 is 3.764 million tons, an increase of 0.2% year-on-year; the total alumina production in the fourth quarter is 2.138 million tons, an increase of 3.5% month-on-month, and the company's operations in Russia account for 36% of the total alumina production.
The total alumina production in 2021 is 8.304 million tons, an increase of 1.5% year-on-year, in line with the company's production plan; bauxite production in the fourth quarter was 3.602 million tons, a 5% decrease from the previous quarter, mainly due to the production of Timan and North Urals mines. Operations are subject to seasonal weather. The total output of bauxite in 2021 will be 15.031 million tons, a year-on-year increase of 1.3%.
On February 8, the alloy furnace of the recycled aluminum project invested and constructed by Hubei Chengzi Aluminum Co., Ltd. was successfully ignited. The project is located in the recycling industrial park, with a total investment of 1 billion yuan, and a new standardized workshop of 60,000 square meters, including raw material workshops, aluminum rods The melting and casting workshop and supporting facilities can produce 200,000 tons of recycled aluminum ingots, aluminum alloys, and aluminum castings annually.
The Goldman Sachs Praveen Korapaty strategist team raised its forecast for the yield on the 10-year U.S. Treasury note by the end of 2022 by 25 basis points to 2.25%, and raised its forecast by the end of 2023 to 2.45% (previously expected to be 2.30%); The one-year U.S. Treasury yield is 1.90% and is expected to end 2023 at 2.45%.
The new forecast means the U.S. Treasury yield curve will steepen more than Goldman Sachs had previously expected. Real yields "contribute" to Goldman Sachs' adjusted U.S. bond yield expectations, reflecting the prospect of the Federal Reserve advancing interest rates and the expectation that U.S. inflation will fall over time. The Fed is expected to raise rates five times in 2022, three in 2023, and two in 2024.
On February 9, the National Development and Reform Commission and the National Energy Administration jointly convened a meeting to arrange and continue to stabilize the coal market price. They also reminded some companies whose coal prices were found to be inflated by monitoring and asked for immediate verification and rectification.
The meeting emphasized that coal production enterprises should resume normal production and supply as soon as possible, strictly implement the national policy requirements of ensuring coal supply and stabilizing prices, further raise awareness, strengthen enterprise self-discipline, and regulate price behavior.
For those who still do not rectify after being reminded, they will further study and take measures such as investigation and accountability; local relevant departments should strengthen monitoring reports, do a good job in policy publicity and interpretation in a timely manner, and promote the stable operation of coal prices within a reasonable range.